---
The Mazda MX-5 is the world's most successful two-seater sportscar and there are several good reasons why. It successfully combines usability, driving fun and dependability to make it one of the most engaging convertibles of all time.
It was among the first cars from a mainstream brand to rekindle interest in a type of car that used to be a British speciality. The two-seater roadster layout, modest power and incredible ability, it embodied everything that made famous British sports cars so addictive to drive.
If you value the thrill of driving, or call yourself a driving enthusiast, you will not find a more rewarding car to rent than an Mazda MX-5.
Our Rental Fleet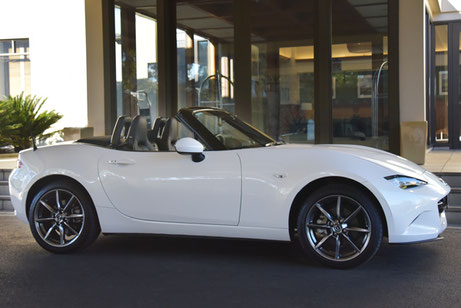 A perfect blend of the original MX-5's size and weight, with modern trimmings and genuine polish, the fourth-generation Mazda MX-5 is a welcome return to form for the world's best-selling, two-seat convertible sports car. And it ensured the MX-5 was properly fun again.
2 seater Roadster
Folding Soft Top
Engine: 2.0L in-line 4
Transmission: 6 speed manual
Power: 118 kw
Weight: 1033 kg
Reversing Camera
GT Trim:

L

eather/Heated seats

Climate Control
Cruise C

o

ntrol

Satellite Navigation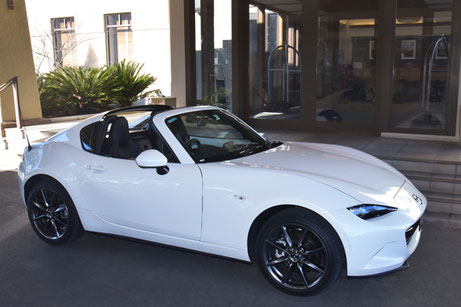 RF stands for Retractable Fastback, describing a coupe-style metal roof, the top section of which can disappear into the bodywork at the touch of a button. It promises to deliver both the quietness, security and practicality of a coupe and the top-down exhilaration of a roadster.
2 seater Retractable Fastback
Push Button Retractable Hardtop
Engine: 2.0L in-line 4
Transmission: 6 speed manual
Power: 118 kw
Weight: 1080 kg
Reversing Camera
GT Trim:

L

eather/Heated seats

Climate Control
Cruise C

o

ntrol

Satellite Navigation